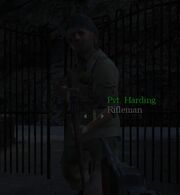 Finley Morgan Harding
(5 August 1917-) was a
US Army
private who served in the
US 506th Infantry Regiment
during
World War II
.
Biography
Finley Morgan Harding was born in Cambridge, Ohio on 5 August 1917, and he worked as a plumber before enlisting in the US Army at the start of World War II in 1941. Harding went through training at Camp Toccoa, Georgia before making his first combat jump into France in 1944, and he was later sent on special missions. On 7 August 1944, during the 1944 Bavarian chateau raid, Harding and Isaac W. Brooks were sent to evacuate the American squad from the chateau in a captured truck.
Ad blocker interference detected!
Wikia is a free-to-use site that makes money from advertising. We have a modified experience for viewers using ad blockers

Wikia is not accessible if you've made further modifications. Remove the custom ad blocker rule(s) and the page will load as expected.