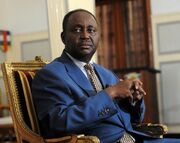 Francois Bozize
(14 October 1946-) was President of the
Central African Republic
from 15 March 2003 to 24 March 2013, succeeding
Ange-Felix Patasse
and preceding
Michel Djotodia
. Bozize seized power in a military coup, and he faced opposition from
democratic
forces twice: the first time was the
Central African Republic Bush War
(2004-2007), and the second time was the
Central African Republic Civil War
, during which he was overthrown by
Seleka
rebels.
Biography
Francois Bozize was born in Mouila, Gabon on 14 October 1946, and he served in the army of the Central African Republic before serving as a Brigadier-General in the army of Emperor Jean-Bedel Bokassa and his short-lived Central African Empire. Bozize went into exile in France and Benin after supporting Ange-Felix Patasse's failed 1982 coup, and he ran for president in the 1993 election after democracy was restored under Andre Kolingba. Bozize became Chief-of-Staff of the army under President Ange-Felix Patasse, putting down 1996 and 1997 army mutinies against his rule, but he was suspected of being involved in a MLC and Libyan-backed coup against Patasse in 2001 and fled to Chad. Fighting between Bozize's rebels and Patasse's government occurred in 2002 and 2003, with Bozize's loyal soldiers defending him from accusations of treason. In 2003, Bozize seized power for himself, and he had to fight against opponents to his takeover in the Central African Republic Bush War of 2004-2007. In 2009, he formed the Kwa Na Kwa party to cement his rule in the country, but popular discontent with his rule would endure. In 2013, the rebels of the Bush War declared that he had violated the ceasefire terms, and they proceeded to advance on Bangui and seize the presidential palace. Bozize went into exile in Cameroon, and the Central African Republic entered into another civil war.
Ad blocker interference detected!
Wikia is a free-to-use site that makes money from advertising. We have a modified experience for viewers using ad blockers

Wikia is not accessible if you've made further modifications. Remove the custom ad blocker rule(s) and the page will load as expected.