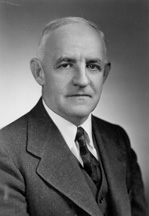 Frank Porter Graham
(14 October 1886-16 February 1972) was a
US
Senator from
North Carolina
(
D
) from 29 March 1949 to 26 November 1950, succeeding
Joseph Melville Broughton
and prreceding
Willis Smith
.
Biography
Frank Porter Graham was born in Fayetteville, North Carolina on 14 October 1886, the brother of the famous baseball player Moonlight Graham. Graham became a lawyer in 1913 and became a teacher in Raleigh, and he briefly left his job to serve in the US Marine Corps from 1917 to 1919 during World War I, reaching the rank of First Lieutenant. From 1915 to 1930, he served as a history professor at the University of North Carolina at Chapel Hill, and he became the university's president in 1930. In 1932, he led the University of North Carolina system, making him the president of all of its campuses. In 1949, Governor W. Kerr Scott nominated Graham to fill the vacancy in the US Senate caused by J. Melville Broughton's death in office. Scott was a pro-Harry S. Truman, progressive, and pro-New Deal Democrat, and he decided to choose the pro-civil rights Graham as Senator despite his lack of political experience. Graham held the seat for just over a year, and the segregationist Willis Smith defeated Graham in the party primary in 1950, winning his senate seat. From 1951 to 1967, Graham served as a United Nations representative to India and Pakistan with the goal of mediating the Kashmir dispute, and he died in Chapel Hill in 1972 at the age of 85.
Ad blocker interference detected!
Wikia is a free-to-use site that makes money from advertising. We have a modified experience for viewers using ad blockers

Wikia is not accessible if you've made further modifications. Remove the custom ad blocker rule(s) and the page will load as expected.