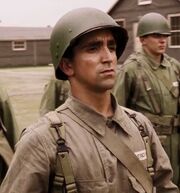 Frank J. Perconte
(10 March 1917-24 October 2013) was a
US Army
Technician 4th Grade who served in
Easy Company
, 2nd Battalion,
US 506th Infantry Regiment
during
World War II
.
Biography
Frank J. Perconte was born in Joliet, Illinois on 10 March 1917, and he worked in a steel mill in Gary, Indiana during the Great Depression. He enlisted in the US Army on 17 August 1942, and Perconte, Herman Hanson, Wayne Sisk, and Carwood Lipton were the first four men assigned to Easy Company, 2nd Battalion, US 506th Infantry Regiment. In 1942, while on leave from Camp Toccoa, he got married. Perconte particiapted in the airborne assault on Normandy during D-Day and saw action in Operation Market Garden and at the Battle of the Bulge, and he was shot in the leg by a German sniper at Foy. He was demobilized earlier than many of his counterparts and became a postman. He died in Joliet in 2013 at the age of 96.
Ad blocker interference detected!
Wikia is a free-to-use site that makes money from advertising. We have a modified experience for viewers using ad blockers

Wikia is not accessible if you've made further modifications. Remove the custom ad blocker rule(s) and the page will load as expected.