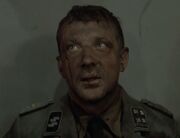 Franz Schadle
(19 November 1906-2 May 1945) was the commander of
Adolf Hitler
's personal bodyguard, the FBK, from 5 January 1945 until his suicide on 2 May 1945 during the
Battle of Berlin
.
Biography
Franz Schadle was born in Westerheim, Baden-Wurttemberg, German Empire on 19 November 1906. He worked as a construction technician before joining the SS on 1 February 1930, and Sepp Dietrich selected Schadle as one of Adolf Hitler's twelve original bodyguards. In January 1945, after the dismissal of Bruno Gesche, he became the new commander of Hitler's FBK bodyguard, and he appointed Rochus Misch as the Fuhrerbunker telephone operator. On 28 April 1945, he suffered a shrapnel wound to his leg, forcing him to use crutches. After Hitler's suicide, the Germans began to abandon the bunker, but Schadle - whose leg wound had become gangrenous - shot himself in the head while waiting in an underground treatment facility rather than hold the others back.
Ad blocker interference detected!
Wikia is a free-to-use site that makes money from advertising. We have a modified experience for viewers using ad blockers

Wikia is not accessible if you've made further modifications. Remove the custom ad blocker rule(s) and the page will load as expected.