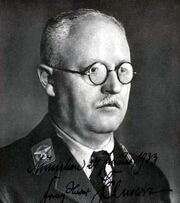 Franz Xaver Schwarz
(27 November 1875-2 December 1947) was the national treasurer of the
Nazi Party
for most of its existence.
Biography
Franz Xaver Schwarz in Gunzburg, Bavaria, German Empire on 27 November 1875, and he worked as an administrative official in the Munich city government from 1900 to 1914 and from 1918 to 1924. During World War I, he served in the Imperial German Army as a second lieutenant, but he was spared field duty after 1916 due to lifelong gastric troubles. He joined the Nazi Party in 1922 and participated in the failed 1923 Beer Hall Putsch, and he became the party's sixth member on 27 February 1925 after its re-establishment. On 21 March 1925, he became the full-time treasurer of the Nazi Party, and he oversaw the 1930 purchase of the Brown House in Munich. He was elected to the Reichstag in 1933 as the representative of the Franconia electoral district, continuing until the end of World War II. He died in an Allied internment camp at Regensburg in December 1947 at the age of 72 from his gastric troubles.
Ad blocker interference detected!
Wikia is a free-to-use site that makes money from advertising. We have a modified experience for viewers using ad blockers

Wikia is not accessible if you've made further modifications. Remove the custom ad blocker rule(s) and the page will load as expected.