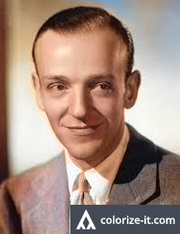 Fred Astaire
(10 May 1899-22 June 1987), born 
Frederick Austerlitz
, was an
American
dancer, singer, actor, choreographer, and television presenter. Astaire was known for his 31 musical films, 9 of which were filmed with
Ginger Rogers
as his partner. The two of them were active
Republican Party
supporters.
Biography
Frederick Austerlitz was born in Omaha, Nebraska on 10 May 1899, the son of a Catholic Austrian-Jewish father and a second-generation Lutheran German-American mother. The family moved to New York City in 1905, and Fred and his sister Adele were considered to be the greatest child act in vaudeville by a Keyport, New Jersey newspaper. By 1918, Astaire was more famous than his sister, and he acted on stage in Broadway and in England. From 1933 to 1939, he was featured in nine RKO musical films with Ginger Rogers as his partner, and the two became superstars. After the group slit, Astaire had mixed results with new film opportunities during the 1940s. Astaire became known as a major conservative Republican Party supporter in Hollywood, founding the Hollywood Republican Committee with Rogers, Bing Crosby, and George Murphy; he was a churchgoer and a supporter of military actions overseas. From 1948 to 1957, he had productive years with MGM, including the film Daddy Long Legs, and he took part in dance specials and acted in non-musical television shows until 1981. He died in 1987 in Los Angeles, California at the age of 88.
Ad blocker interference detected!
Wikia is a free-to-use site that makes money from advertising. We have a modified experience for viewers using ad blockers

Wikia is not accessible if you've made further modifications. Remove the custom ad blocker rule(s) and the page will load as expected.