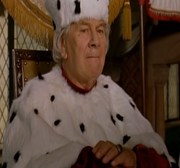 Frederick III "the Wise", Elector of Saxony
(17 January 1463-5 May 1525) was Elector of
Saxony
from 26 August 1486 to 5 May 1525, succeeding
Ernest, Elector of Saxony
and preceding
John, Elector of Saxony
. Frederick was known for being one of the most powerful defenders of
Lutheranism
as it developed during the early 16th century, although he never officially left
Catholicism
.
Biography
Frederick was born in Torgau, Electorate of Saxony, Holy Roman Empire on 17 January 1463, the son of John, Elector of Saxony and Elisabeth of Bavaria. Frederick belonged to the House of Wettin, and he succeeded his father as elector in 1486. In 1502, he founded the University of Wittenberg, where Martin Luther and Philip Melanchthon would later teach. In 1519, Pope Leo X awarded Frederick with the prestigious Golden Rose with the hope that he could convince other nobles to elect Frederick as the new Holy Roman Emperor; however, Charles defeated him. He became known for his collection of holy relics, and he later allied with the Christian reformer Martin Luther, abducting him and hiding him at Wartburg Castle, where he translated the New Testament into German. Frederick died unmarried at the castle of Lochau in 1525 at the age of 62, having been a Lutheran sympathizer, but officially a Catholic, until his death.
Ad blocker interference detected!
Wikia is a free-to-use site that makes money from advertising. We have a modified experience for viewers using ad blockers

Wikia is not accessible if you've made further modifications. Remove the custom ad blocker rule(s) and the page will load as expected.