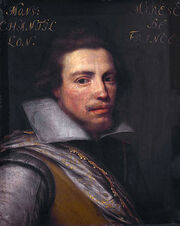 Gaspard III de Coligny
(26 July 1584-4 January 1646) was a Marshal of
France
during the
Thirty Years' War
and the
Franco-Spanish War
.
Biography
Gaspard de Coligny was born in Montpellier, France in 1584, a member of the prestigious House of Coligny and the grandson of Protestant leader Gaspard II de Coligny. He became a Marshal of France under Louis XIII of France, and he assisted Urbain de Maille-Breze with his invasion of the Spanish Netherlands in 1635 when the Franco-Spanish War broke out. In 1635, he took part in the victory over the Spanish Army at Les Avins, but he was defeated at La Marfee in 1641. He died in Chatillon in 1646 at the age of 51.
Ad blocker interference detected!
Wikia is a free-to-use site that makes money from advertising. We have a modified experience for viewers using ad blockers

Wikia is not accessible if you've made further modifications. Remove the custom ad blocker rule(s) and the page will load as expected.