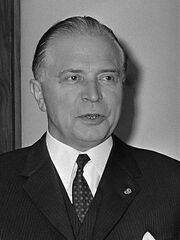 Gaston Eyskens
(1 April 1905-3 January 1988) was Prime Minister of
Belgium
from 11 August 1949 to 8 June 1950 (succeeding
Paul-Henri Spaak
and preceding
Jean Duvieusart
), from 26 June 1958 to 25 April 1961 (succeeding
Achille Van Acker
and preceding
Theo Lefevre
), and from 17 June 1968 to 26 January 1973 (succeeding
Paul Vanden Boeynants
and preceding
Edmond Leburton
). Eyskens was a member of the
Christian democratic
Christian Social Party of Belgium
(PSC-CVP) party.
Biography
Gaston Eyskens was born in Lier, Belgium on 1 April 1905, and he studied at the Catholic University of Leuven before becoming a faculty member there. Eyskens became a member of the Christian Social Party of Belgium during the 1930s, and he was elected to the Chamber of Representatives in 1939. In 1945 and from 1947 to 1949, Eyskens served as Minister of Finance, and he served as Prime Minister for the first time from 1949 to 1950. In 1958, he formed a coalition government with the liberals after being elected Prime Minister a second time, and he cut spending in education and the military to reform unemployment benefits and government pensions. Eyskens oversaw Belgium's intervention in the Congo Crisis of 1960, backing the independence movements in Katanga and South Kasai. In 1961, his government fell as a result of his economic policies, but he served as Prime Minister from 1968 to 1973. Eyskens began the federalization of Belgium into communities representing the French, German, and Dutch-speaking regions of Belgium, and his last government fell in 1973. Eyskens died in 1988 at the age of 82.
Ad blocker interference detected!
Wikia is a free-to-use site that makes money from advertising. We have a modified experience for viewers using ad blockers

Wikia is not accessible if you've made further modifications. Remove the custom ad blocker rule(s) and the page will load as expected.