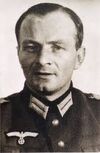 Georg Hansen
(5 July 1904-8 September 1944) was a
German
Wehrmacht
general staff colonel and a member of the
German Resistance
during
World War II
.
Biography
Georg Hansen was born in Sonnefeld, Saxe-Coburg-Gotha, German Empire on 5 July 1904, and he joined the Reichswehr armored forces in 1924 after studying law at the University of Erlangen for two semesters. He rose in the ranks of the Wehrmacht during the Interwar period and entered the Abwehr in 1937 after meeting Ludwig Beck and Claus von Stauffenberg. He was involved with foreign military reconnaissance during World War II, and he was appointed to head military intelligence after Wilhelm Canaris' February 1944 resignation. Hansen was influenced to join the German Resistance by Ludwig Beck, and he was arrested after the failure of the 20 July plot. He was executed by hanging at the Ploetzensee Prison on 8 September 1944.
Ad blocker interference detected!
Wikia is a free-to-use site that makes money from advertising. We have a modified experience for viewers using ad blockers

Wikia is not accessible if you've made further modifications. Remove the custom ad blocker rule(s) and the page will load as expected.