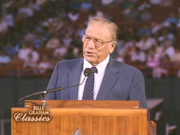 George Beverly "Bev" Shea
(1 February 1909-16 April 2013) was a
Canadian
-
American
gospel singer and a participant in
Billy Graham
's crusades.
Biography
George Beverly Shea was born to a Methodist Christian family in Winchester, Ontario, Canada on 1 February 1909. He was taught to play the violin, organ, and piano by his parents, and he went to Houghton College in 1928, where he studied singing. He served as a clerk for the Mutual of New York Life Insurance Company's medical department, and he became involved with radio shows during the 1930s. Shea sang for various New Jersey Christian radio shows, and he became involved with ministry. From 1947 to 2013, Shea was involved with Billy Graham's evangelistic crusades, serving as his musical mainstay and becoming America's most beloved gospel singer. He was nominated for ten Grammy Awards throughout his career, and he was inducted into the Gospel Music Hall of Fame in 1978 before receiving a Lifetime Achievement Grammy Award in 2011. He died of a stroke on 16 April 2013 in Montreat, North Carolina at the age of 104.
Ad blocker interference detected!
Wikia is a free-to-use site that makes money from advertising. We have a modified experience for viewers using ad blockers

Wikia is not accessible if you've made further modifications. Remove the custom ad blocker rule(s) and the page will load as expected.