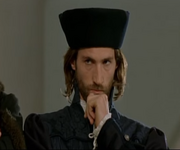 George Spalatin
(17 January 1484-16 January 1545) was a
German
leader of the
Protestant Reformation
.
Biography
George Spalatin was born in Spalt, Bavaria, Holy Roman Empire on 17 January 1484, and he received his bachelor's degree from the University of Erfurt in 1499. In 1508, he was ordained as a priest, and he became a tutor to the nephew of Elector Frederick the Wise of Saxony. In 1512, he became the Elector's librarian, and he was promoted to become his court chaplain and secretary, making him the Elector's right-hand man. He was always ready to translate Martin Luther's books or defend his actions while Luther was being protected by Frederick. After Frederick's death in 1525, he continued to be involved with the Saxon court and the University of Wittenberg, and he died in 1545.
Ad blocker interference detected!
Wikia is a free-to-use site that makes money from advertising. We have a modified experience for viewers using ad blockers

Wikia is not accessible if you've made further modifications. Remove the custom ad blocker rule(s) and the page will load as expected.