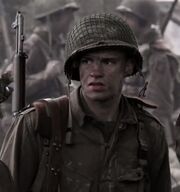 Gerald J. Lorraine
(1913-19 May 1976) was a
US Army
paratrooper who served with Service Company, 2nd Battalion
US 506th Infantry Regiment
during
World War II
.
Biography
Gerald J. Lorraine was born in Alameda, California in 1913, and he enlisted in the US Army in San Francisco in 1942. He was trained at Fort Benning before being deployed to England, and he dropped into Normandy during Operation Overlord on 6 June 1944. Lorraine grouped up with Easy Company after losing track of his own company, and he took part in the Brecourt Manor Assault, being awarded the Silver Star for his actions. Lorraine continued to fight alongside Easy Company, taking part in Operation Market Garden in the Netherlands and receiving another Silver Star. Lorraine would fight in the Battle of the Bulge and take part in the occupation of Germany before returning home, and he married after the war. He died in California in 1976 at the age of 63.
Ad blocker interference detected!
Wikia is a free-to-use site that makes money from advertising. We have a modified experience for viewers using ad blockers

Wikia is not accessible if you've made further modifications. Remove the custom ad blocker rule(s) and the page will load as expected.