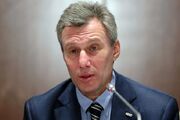 German Borisovich Khan
(24 October 1961-) was a
Ukrainian
-
Russian
entrepreneur who co-founded the Alfa Group, LetterOne, and L1 Energy. In 2016, he had a net worth of $9.5 billion.
Biography
German Borisovich Khan was born in Kiev, Ukrainian SSR, Soviet Union to a Jewish family, the son of a metallurgy professor. He graduated from the Kiev-Pedagogical College in 1982 and from the Moscow Institute of Steel and Alloys in 1988, and he operated small businesses such as the Alexandrina clothing cooperative during the Perestroika era. Khan befriended Mikhail Fridman and co-founded Alfa Group with him, and he becaame immensely wealthy during the 1990s and 2000s as the group expanded its operations. In 2003, he formed a 50-50 joint venture with British Petroleum as deputy chairman of the TNK Oil Company, the largest foreign investment ($8 billion) in Russia at the time. After the 2013 sale of TNK to Rosneft, Khan and Fridman founded the LetterOne investment business, and its L1 Energy fund was created in 2013.
Ad blocker interference detected!
Wikia is a free-to-use site that makes money from advertising. We have a modified experience for viewers using ad blockers

Wikia is not accessible if you've made further modifications. Remove the custom ad blocker rule(s) and the page will load as expected.