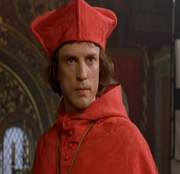 Girolamo Aleandro
(13 February 1480-1 February 1542) was an
Italian
cardinal and an enemy of
Martin Luther
.
Biography
Girolamo Aleandro was born in Motta di Livenza, Republic of Venice on 13 February 1480, and he came to Paris for his studies in 1508, at one point serving as Rector of the University of Paris. In 1519, he became librarian of the Vatican, and he served as papal nuncio to the coronation of Emperor Charles V of Germany in 1520. At the 1521 Diet of Worms, he advocated for harsh measures to be taken against Martin Luther, and he became Archbishop of Brindisi in 1524. Aleandro was captured at the Battle of Pavia in 1525 while serving as papal nuncio to King Francis I of France. In 1528, he was consecrated a bishop, and he became a cardinal in 1536. He died in Rome in 1542.
Ad blocker interference detected!
Wikia is a free-to-use site that makes money from advertising. We have a modified experience for viewers using ad blockers

Wikia is not accessible if you've made further modifications. Remove the custom ad blocker rule(s) and the page will load as expected.