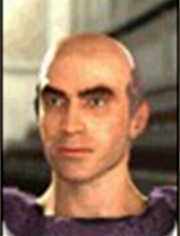 Gnaeus Volsinius 
(250 BCE-223 BCE) was a Roman general who was of the
House of Julii
, loyal to
Lucius Julius
. Gnaeus was a catamite who was in a homosexual relationship with a man, and was disliked, but showed bravery when he was struck down in the
Siege of Alesia
in 223 BCE.
Biography
Volsinius was born in Alesia in the Roman Province of Eastern Gaul to an Italian noble family. Volsinius was a catamite, a boy in a homosexual relationship with a man, and also liked to drink wine, making him an unsavoury figure. Gnaeus Volsinius became a General in the SPQR army and fought in campaigns against the Britons in France. In 224 BCE, he was one of the many generals stationed at Alesia when the Britons attacked the town. Gnaeus tried to break out but was slain, showing some valor in a life of strangeness.
Ad blocker interference detected!
Wikia is a free-to-use site that makes money from advertising. We have a modified experience for viewers using ad blockers

Wikia is not accessible if you've made further modifications. Remove the custom ad blocker rule(s) and the page will load as expected.