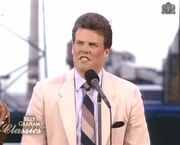 Greg Buchanan
(1954-) was an
American
evangelist from southern
California
. Buchanan was known for his testimony and his harp performance at one of
Billy Graham
's crusades at Denver,
Colorado
in 1987.
Biography
Greg Buchanan grew up in southern California, the son of two loving parents. He started piano at three, and his older sister played harp; Greg picked up this instrument at the age of nine. Buchanan attended a Billy Graham revival meeting in Los Angeles as a youth, but he was frustrated that he was overweight, was hyperactive, and had social problems at school, and it was not until later that he found Jesus. From the age of thirteen to twenty-eight, he was an alcoholic and drug addict, and he ended up in mental hospitals, jails, and the occult. Buchanan was into witchcraft, the occult, and was suicidal by the time that he was 27, but on 17 October 1981, he attended a praise service in Hollywood and decided to give his life to Jesus. Buchanan said that Jesus saved his life and his soul, and he joined a Bible-believing church and started to learn to pray. On 28 May 1982, he sobered up from drug and alcohol addiction, and he joined the harp ministry, marrying and having a son. Buchanan spoke at one of Billy Graham's crusades in Denver, Colorado in 1987, and he shared a verse from the Book of Ephesians, saying that the gift of God saved him so that nobody could boast. He proceeded to play a beautiful rendition of "Amazing Grace" on his harp for the audience, meeting widespread applause.
Ad blocker interference detected!
Wikia is a free-to-use site that makes money from advertising. We have a modified experience for viewers using ad blockers

Wikia is not accessible if you've made further modifications. Remove the custom ad blocker rule(s) and the page will load as expected.