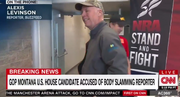 Greg Gianforte 
(17 April 1961-) was a member of the
US House of Representatives
from
Montana
's at-large district from 21 June 2017, succeeding
Ryan Zinke
.
Biography
Greg Gianforte was born in San Diego, California on 17 April 1961, and he attended Stevens Institute of Technology in Hoboken, New Jersey. He founded his own software company in 1986, and he founded RightNow Technologies in Bozeman, Montana in 1997, selling it to Oracle Corporation for $1,500,000,000 in 2011. In 2016, he sought the Republican Party's nomination for governor of Montana, and he was defeated 50% to 46% by Steve Bullock, the Democratic Party governor. In 2017, he took part in a special election following Ryan Zinke's nomination as Minister of the Interior, and he was accused of body slamming a The Guardian reporter on 24 May 2017. He was charged with a misdemeanor crime, yet he defeated Democratic nominate Rob Quist with 50.2% of the vote to Quist's 44.1%.
Ad blocker interference detected!
Wikia is a free-to-use site that makes money from advertising. We have a modified experience for viewers using ad blockers

Wikia is not accessible if you've made further modifications. Remove the custom ad blocker rule(s) and the page will load as expected.