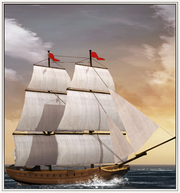 The 
HMS Commerce 
was a British medium brig that was laid down in 1756 in St. Tredennick, in
Cornwall
,
Great Britain
, for use in the
Seven Years' War
. After service in action against French naval forces, the ship was used in the trade of goods between London and Boston, and in 1773, it was captained by
Henry Ainsley
, a future
Continental Navy
hero. The ship turned out to become a successful warship during the
Revolutionary War
for the British cause, sinking
USS Constable
in 1777, but in 1779, HMS Commerce crashed into a cliff at Roanoke, ending her impressive career. 
Ad blocker interference detected!
Wikia is a free-to-use site that makes money from advertising. We have a modified experience for viewers using ad blockers

Wikia is not accessible if you've made further modifications. Remove the custom ad blocker rule(s) and the page will load as expected.