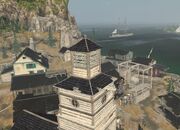 Halifax
is the capital of the province of
Nova Scotia
,
Canada
. The town was established by the
British
in 1749, and it was named for
George Montagu-Dunk, 2nd Earl of Halifax
, an important colonial official. The town replaced Annapolis-Royal as the capital of Nova Scotia, and it grew into a city in 1842. Halifax would become one of the most business-friendly cities in the country, and the city had a high quality of life. In 2016, the Halifax metro area had a population of 403,390 people.
Gallery
Ad blocker interference detected!
Wikia is a free-to-use site that makes money from advertising. We have a modified experience for viewers using ad blockers

Wikia is not accessible if you've made further modifications. Remove the custom ad blocker rule(s) and the page will load as expected.