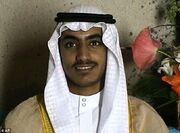 Hamza bin Laden
(1991-) was an
al-Qaeda
commander and the son of
Osama bin Laden
. Hamza was twenty years old when his father was killed by
SEAL Team Six
, and he also lost his brother
Saad bin Laden
in an airstrike in
Pakistan
; Hamza became an al-Qaeda leader and released audio messages threatening revenge against the
United States
.
Biography
Hamza bin Laden was born in 1991 in
Saudi Arabia
, the son of
Osama bin Laden
. Hamza helped the
Taliban
to handle
United States
helicopter wreckage in November 2001 during
Operation Enduring Freedom
, when
NATO
invaded
Afghanistan
to destroy
al-Qaeda
and their Taliban allies. By September 2007 he began taking a serious role in al-Qaeda while in the tribal belt of
Waziristan
,
Pakistan
, and a July 2008 poem written by him urged people to accelerate the destruction of America, the
United Kingdom
,
France
, and
Denmark
.
al-Qaeda commander
On 1 May 2011, Hamza's father was killed by SEAL Team Six in Abbottabad, Pakistan in a raid on the Bin Laden family's mansion, and Hamza became a commander of the group. On 9 May 2016, Hamza released an audio recording in which he urged all Mujahideen to fight for jihad in Syria, and he also said that the liberation of Palestine was much closer than it was before the start of the Syrian Civil War. On 10 July 2016, he released an even more daunting statement, threatening genocide against Americans to avenge his father's death. Although Ayman al-Zawahiri was the emir of al-Qaeda, Hamza bin Laden was still a successor to his father, seeking revenge for the United States' killing of his family. In 2017, his own son Osama bin Hamza bin Laden was killed in Afghanistan.