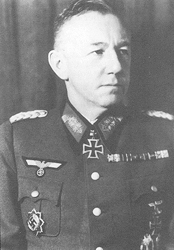 Hans Schmidt
(14 March 1895-28 November 1971) was a 
Generalleutnant
of
Nazi Germany
during
World War II
.
Biography
Hans Schmidt was born in Bayreuth, German Empire on 14 March 1895, and he joined the Imperial German Army in August 1914 at the start of World War I. He became a second lieutenant of infantry in 1915, and he had reached the rank of Lieutenant-Colonel in the Wehrmacht by the time that World War II broke out in 1939. Schmidt commanded a battalion during the invasion of Poland and led the 245th Regiment during the Battle of France. In 1943, he was promoted to Generalmajor and sent to command the 68th Division on the Eastern Front, fighting against the Soviet Union. In December, he was sent to France to head the 275th Division, and his division suffered losses during Operation Overlord (failing to hold Pegasus Bridge during Operation Deadstick) and was virtually eliminated after the Battle of Aachen. He was recalled to Germany to lead a new division on the Russian front, and he was captured by the British at Tangermunde on 6 May 1945. He died in 1971 at the age of 76.
Ad blocker interference detected!
Wikia is a free-to-use site that makes money from advertising. We have a modified experience for viewers using ad blockers

Wikia is not accessible if you've made further modifications. Remove the custom ad blocker rule(s) and the page will load as expected.