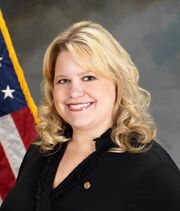 Heidi R. Brunt
 was the municipal clerk of Middletown Township, Monmouth County,
New Jersey
during the 2010s. In the summer of 2016, the
conservative
Brunt was incensed when she found out from her daughter that history teacher Joe Ventre had shown a John Oliver clip parodying
Donald Trump
, and she complained to the Board of Education. Brunt was responsible for overseeing the controversial firing of Mr. Ventre, who was loved by his students, and students with all different political views were active in opposing his firing. Ultimately, his contract was not renewed after 2017, the result of Brunt's hateful campaign against the teacher.
Ad blocker interference detected!
Wikia is a free-to-use site that makes money from advertising. We have a modified experience for viewers using ad blockers

Wikia is not accessible if you've made further modifications. Remove the custom ad blocker rule(s) and the page will load as expected.