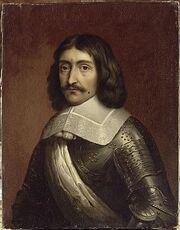 Henri de La Ferte-Senneterre
(1599-27 September 1681) was a Marshal of
France
and a Governor of
Lorraine
during the
Thirty Years' War
and the
Franco-Spanish War
.
Biography
Henri de La Ferte-Senneterre was born to an old knightly family from the Auvergne region of France, and he served under Maurice of Orange during the Dutch Revolt before taking part in the 1627-28 siege of La Rochelle in northern France. During the Franco-Spanish War, La Ferte-Senneterre served as Governor of Lorraine, defeating the Spanish at Hesdin on 29 June 1639 before becoming marechal de camp under King Louis XIII of France. In 1643, he was second-in-command of the French left wing at the Battle of Rocroi, and he became a Lieutenant-General in 1648 and a Marshal of France in 1651. He remained loyal to the royal family during the Fronde, and he was captured at Valenciennes in 1656 before being ransomed by King Louis XIV of France. He died in 1681 at the age of 82.
Ad blocker interference detected!
Wikia is a free-to-use site that makes money from advertising. We have a modified experience for viewers using ad blockers

Wikia is not accessible if you've made further modifications. Remove the custom ad blocker rule(s) and the page will load as expected.