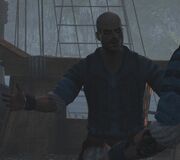 Henry Nanscawen
(1687-) was an
English
pirate who served aboard the
pirate
ship
Nuestra Señora de la Almudena
during the
Golden Age of Piracy
.
Biography
Henry Nanscawen was born in Cornwall, England in 1687, and he served in the Royal Navy during the War of the Spanish Succession before turning to piracy. Nanscawen served in the pirate Edward Kenway's crew aboard the Jackdaw during the Golden Age of Piracy, and he was chosen by fellow pirate Casey Pengelly to serve as his second-in-command aboard his prize ship, Nuestra Señora de la Almudena, after its capture in September 1719.
Ad blocker interference detected!
Wikia is a free-to-use site that makes money from advertising. We have a modified experience for viewers using ad blockers

Wikia is not accessible if you've made further modifications. Remove the custom ad blocker rule(s) and the page will load as expected.