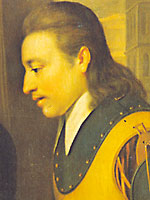 Henry of Nassau-Dillenburg
(15 October 1550-14 April 1574) was a general of the
United Provinces
during the
Dutch Revolt
.
Biography
Henry of Nassau-Dillenburg was born on 15 October 1550, the twelfth and last child of William I, Count of Nassau-Dillenburg and Juliana of Stolberg. Henry studied in Leuven and Strasbourg, and Henry and his brothers Louis of Nassau and William the Silent joined the Huguenots at the Battle of Moncontour on 3 October 1569 during the French Wars of Religion. In 1574, while fighting against Spain during the Dutch Revolt, Henry was killed at the Battle of Mookerheyde alongside his brother Louis, and their bodies were never found.
Ad blocker interference detected!
Wikia is a free-to-use site that makes money from advertising. We have a modified experience for viewers using ad blockers

Wikia is not accessible if you've made further modifications. Remove the custom ad blocker rule(s) and the page will load as expected.