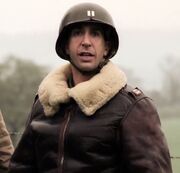 Herbert M. Sobel Sr.
(26 January 1912-30 September 1987) was a
US Army
lieutenant-colonel who served in
Easy Company
, 2nd Battalion,
US 506th Infantry Regiment
in the
US 101st Airborne Division
during
World War II
.
Biography
World War II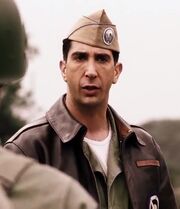 Herbert M. Sobel Sr. was born in
Chicago
,
Illinois
on 26 January 1912 to a
Jewish
family, and he attended the Culver Military Academy and the University of Illinois (as an architecture major). He was commissioned as a second lieutenant in the
US Army
paratroopers when
World War II
broke out, and he became the commander of
Easy Company
, 2nd Battalion,
US 506th Infantry Regiment
during its training at
Camp Toccoa
,
Georgia
. Sobel was a strict disciplinarian who was known for his cruel methods, such as revoking the entire company's weekend passes due to the mistakes of a few members, having his men run up Currahee mountain shortly after eating lunch (causing vomiting), and punishing men for owning personal property, saying that they were not paratroopers yet. He was promoted to Captain in recognition for his skills, but his men saw him as petty and vindictive, and he was known to have his follies as a commander; in 1943, he failed a training exercise in
North Carolina
, and he cut down an
English
farmer's barbed wire fence in 1944, letting his livestock loose. In June 1944, he was reassigned to the Chiltan Foliat jump school to train non-combat officers after
Robert Sink
 found out about a planned mutiny against Sobel by several Easy Company NCOs. He jumped into
Normandy
during
Operation Overlord
and later fought in
Operation Market Garden
and at the
Battle of the Bulge
, and he became a logistics officer on 8 March 1945.
Postwar life
After the war, Sobel worked as an accountant and was recalled to active duty in the Korean War as a lieutenant-colonel in the US National Guard. He later married and had three children. In 1970, he blinded himself in a failed suicide attempt with a handgun, and he was moved to an assisted living facility in Waukegan, Illinois. He died there of malnutrition in 1987. No services were held for him after his death, and he was remembered as a petty martinet by his men, but as an effective trainer by some of his fellow officers.
Ad blocker interference detected!
Wikia is a free-to-use site that makes money from advertising. We have a modified experience for viewers using ad blockers

Wikia is not accessible if you've made further modifications. Remove the custom ad blocker rule(s) and the page will load as expected.