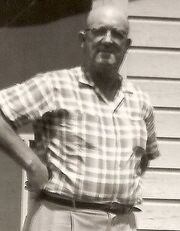 Herman "Wimpy" Jones
(19 December 1905-30 April 1967) was a
Louisiana
State Senator for District 36 from 1956 to 1960, succeeding
John J. Doles
and preceding
Harold Montgomery
.
Biography
Herman Jones was born in Webster Parish, Louisiana, United States on 19 December 1905, and he opened up several restaurants in Minden and Bossier City as an adult. Jones served on the Bossier City Planning Commission, and he ran for the State House of Representatives in 1947, losing to incumbent Jimmy Boyd. In 1952, he narrowly lost a State Senate election to John J. Doles, but he won the election to that same seat in 1956. While Jones was a favorite of organized labor, he opposed desegregation at the time of the Civil Rights movement, and the more conservative Harold Montgomery defeated Jones in the 1960 election. Jones died in Shreveport, Louisiana on 30 April 1967 after a short period of illness.
Ad blocker interference detected!
Wikia is a free-to-use site that makes money from advertising. We have a modified experience for viewers using ad blockers

Wikia is not accessible if you've made further modifications. Remove the custom ad blocker rule(s) and the page will load as expected.