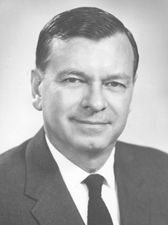 Herman Eugene Talmadge
(9 August 1913-21 March 2002) was a
US
Senator from
Georgia
(
D
) from 3 January 1957 to 3 January 1981, succeeding
Walter F. George
and preceding
Mack Mattingly
. Talmadge previously served as Governor of Georgia from 14 January to 18 March 1947, succeeding
Ellis Arnall
and preceding
Melvin E. Thompson
, and again from 17 November 1948 to 11 January 1955, succeeding
Melvin E. Thompson
and preceding
Marvin Griffin
.
Biography
Herman Eugene Talmadge was born in McRae, Telfair County, Georgia on 9 August 1913, the son of Georgia governor Eugene Talmadge. He graduated from the University of Georgia School of Law in 1936, and he reached the rank of Lieutenant Commander in the US Navy while serving in the South Pacific during World War II. After the war, he ran his father's successful 1946 gubernatorial campaign, and the elder Talmadge died before taking office. The Supreme Court of Georgia supported Lieutenant Governor Melvin E. Thompson to become the new governor, and Talmadge defeated him in the 1948 special election. He supported segregation and attracted new industries to Georgia. In 1956, he was elected to the US Senate after leaving the governorship, and he opposed civil rights legislation, boycotting the 1964 Democratic National Convention in protest against the Civil Rights Act of 1964. From 1971 to 1981, he headed the Senate Agricultural Committee, and he lost re-election to the Republican Party member Mack Mattingly. He died in 2002 at the age of 88.
Ad blocker interference detected!
Wikia is a free-to-use site that makes money from advertising. We have a modified experience for viewers using ad blockers

Wikia is not accessible if you've made further modifications. Remove the custom ad blocker rule(s) and the page will load as expected.