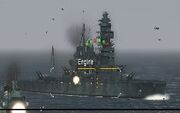 The 
Hiei
was an
Imperial Japanese Navy
battlecruiser that was laid down at the Yokosuka Naval Arsenal in 1944 and commissioned on 4 August 1914. The ship patrolled off the
China
coast during
World War I
, and the ship served as Emperor
Hirohito
's transport during the 1930s. After being reconstructed in 1937, 
Hiei
became a fast battleship, and she took part in the invasion of the
East Indies
and the
Indian Ocean Raid
. During the
Battle of Guadalcanal
, she escorted
Japanese
carriers at the
Battle of the Eastern Solomons
and the
Battle of Santa Cruz
, and she was crippled by
American
cruisers and destroyers at the
Naval Battle of Guadalcanal
. Subjected to continuous air attack, she sunk on 14 November 1942.
Gallery
Ad blocker interference detected!
Wikia is a free-to-use site that makes money from advertising. We have a modified experience for viewers using ad blockers

Wikia is not accessible if you've made further modifications. Remove the custom ad blocker rule(s) and the page will load as expected.