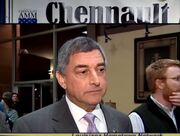 John Leight "Jay" Dardenne Jr.
(6 February 1954-) was Lieutenant Governor of
Louisiana
(
R
) from 22 November 2010 to 11 January 2016, succeeding
Scott Angelle
and preceding
Billy Nungesser
. Dardenne was the first
Jewish
state constitutional officer in Louisiana since
Judah P. Benjamin
and
Benjamin F. Jonas
in the late 19th century.
Biography
John Leight Dardenne Jr. was born in Baton Rouge, Louisiana on 6 February 1954 to a Jewish family. Dardenne worked with non-profit organizations before deciding to run for the State Senate in 1987 annd 1991 as a Republican Party member. He won election to the State Senate from the 16th district, serving from 1992 to 1996, succeeding Kenneth Osterberger and preceding Bill Cassidy. In 2006, Dardenne was elected Secretary of State of Louisiana, serving until 2010, succeeding Al Ater and preceding Tom Schedler. He won election as a reform candidate, supporting anti-litter efforts and election reform (increased poll commissioner fees, shortened election day hours, opposing the establishment of satellite voting areas, and earlier voting hours). In 2010, he ran for Lieutenant Governor, winning the election to serve as Bobby Jindal's right-hand man. Dardenne sought to increase tourism advertising, opposed gay marriage, and supported the death penalty. He failed to win the Republican nomination for governor in 2016, but Governor John Bel Edwards (a Democratic Party member) appointed him Commissioner of Administration.