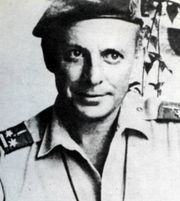 Jean Schramme
(25 March 1929-14 December 1988) was a
Belgian
settler in the
Belgian Congo
(now the
Democratic Republic of the Congo
) and a mercenary leader. Schramme was the leader of the failed
Kisangani Mutinies
of 1966-1967.
Biography
Jean Schramme was born in Bruges, Belgium on 25 March 1929, and Schramme later moved to the Belgian Congo and managed a large estate there. In 1953, he left the service of Belgium, and he served as Chief of Police of Katanga from 1961 to 1963 before serving as Major, 10 Commando in the army of Congo-Leopoldville from 1964 to 1965 during the Congo Crisis. After the alleged murder of Moise Tshombe by the dictatorship of Joseph-Desire Mobutu, Schramme decided that he was fighting the wrong enemy, and he led his mercenaries in support of the Kisangani Mutinies in 1966-1967. Schramme's 10 Commando ANC launched surprise attacks on Stanleyville, Kindu, and Bukavu, and his force held Bukavu for seven weeks, inflicting heavy losses on the Congolese army, which lacked artillery support. However, extra Congolese forces defeated Schramme on 29 October 1967, and Schramme and his rebels fled to Rwanda in 1967 before returning to Belgium in 1968. On 17 April 1986, he was sentenced to 20 years in prison in absentia for murder, and he died in exile in Brazil on 14 December 1988 at the age of 59.
Ad blocker interference detected!
Wikia is a free-to-use site that makes money from advertising. We have a modified experience for viewers using ad blockers

Wikia is not accessible if you've made further modifications. Remove the custom ad blocker rule(s) and the page will load as expected.