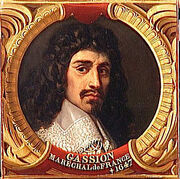 Jean de Gassion
(1609-1647) was a general of
France
during the
Franco-Spanish War
.
Biography
Jean de Gassion was born in Pau, southern France in 1609, and he became a cavalry commander in the French Army during the Thirty Years' War. He served under Louis, Grand Conde, and he helped the Grand Conde in defeating combined Habsburg forces at the 1643 Battle of Rocroi. He reached the rank of Marshal of France at the age of 34 after fighting at Rocroi, and he was mortally wounded during the capture of the Flemish city of Lens from Spain in 1647.
Ad blocker interference detected!
Wikia is a free-to-use site that makes money from advertising. We have a modified experience for viewers using ad blockers

Wikia is not accessible if you've made further modifications. Remove the custom ad blocker rule(s) and the page will load as expected.