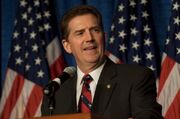 James Warren "Jim" DeMint
(2 September 1951-) was a
US
Senator from
South Carolina
(
R
) from 3 January 2005 to 1 January 2013, succeeding
Ernest Hollings
and preceding
Tim Scott
. DeMint had previously served as a member of the
US House of Representatives
(R-
SC
4) from 3 January 1999 to 3 January 2005, interrupting
Bob Inglis
' two terms.
Biography
James Warren DeMint was born in Greenville, South Carolina on 2 September 1951, one of four children. He received his bachelor's degree from the University of Tennessee in 1973 and received an MBA from Clemson University in 1981. He joined his father-in-law's advertising firm after graduating from college, and he founded The DeMint Group, a research firm. Republican Party representative Bob Inglis hired DeMint to help him with his campaign, and DeMint ran for Inglis' US House of Representatives seat when Inglis ran for the US Senate in 1998. DeMint served South Carolina's 4th congressional district from 1999 to 2005, when he himself won election to the Senate. He was one of the most conservative members of the Senate, and he was a supporter of the populist Tea Party movement. He favored a national sales tax to replace the income tax, and he also sought to abolish the IRS. DeMint opposed earmarks, failing to pass anti-earmark legislation several times, and he supported free trade agreements, supported the privatization of Social Security benefits, opposed government loans to corporations, opposed NATO involvement in the Kosovo War and the Libyan Civil War, opposed granting amnesty to illegal immigrants, opposed abortion, opposed embryonic stem cell research, argued that same-sex marriage infringed upon religious liberty, opposed the ability of gay people to become teachers or to adopt children, and favored making English the official language of the United States. In 2014, he became President of the Heritage Foundation think tank, and Tim Scott filled DeMint's vacant seat in the Senate.
Ad blocker interference detected!
Wikia is a free-to-use site that makes money from advertising. We have a modified experience for viewers using ad blockers

Wikia is not accessible if you've made further modifications. Remove the custom ad blocker rule(s) and the page will load as expected.