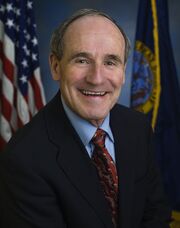 James Elroy "Jim" Risch
(3 May 1943-) was a
US
Senator from
Idaho
(
R
) from 3 January 2009, succeeding
Larry Craig
. Risch previously served as Lieutenant Governor of Idaho from 3 January 2003 to 3 January 2009, succeeding
Jack Riggs
and preceding
Brad Little
, having served as acting governor between
Dirk Kempthorne
and
Butch Otter
from 26 May 2006 to 1 January 2007.
Biography
James Elroy Risch was born in Milwaukee, Wisconsin on 3 May 1943, and he attended the University of Wisconsin-Milwaukee from 1961 to 1963 before going on to study at the University of Idaho. Risch received his juris doctor at the university's law school in 1968, and he served as a state prosecuting attorney during the 1970s. In 1974, he was Ada County's representative in the Idaho Senate, serving as a Republican Party member. From 1982 to 1988, he served as President pro tempore of the Idaho Senate, and he went on to represent the 18th district in the Senate from 1995 to 2002. When Butch Otter resigned as Lieutenant Governor to seek a US Congress seat, Jack Riggs became Lieutenant Governor, and Risch defeated him for re-election in 2003. From 2006 to 2007, Risch served as acting Governor, as Dirk Kempthorne had resigned to serve as Secretary of the Interior. Risch returned to serving as Lieutenant Governor, serving until 2009, when he was elected to the US Senate. In 2017, he was one of 22 senators to sign a letter to Donald Trump urging him to withdraw from the Paris Agreement.
Ad blocker interference detected!
Wikia is a free-to-use site that makes money from advertising. We have a modified experience for viewers using ad blockers

Wikia is not accessible if you've made further modifications. Remove the custom ad blocker rule(s) and the page will load as expected.