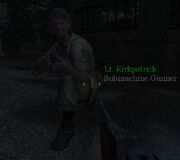 John Day Kirkpatrick
(17 January 1921-) was a
US Army
lieutenant who served in the
US 506th Infantry Regiment
during
World War II
.
Biography
John Day Kirkpatrick was born in Nashua, New Hampshire on 17 January 1921, and he enlisted in the US Army in 1941. He attended Army Officer Training School and became a lieutenant in the airborne infantry, serving with the US 506th Infantry Regiment in France before being assigned to carry out special missions behind German lines. Kirkpatrick notably took part in the 1944 Bavarian chateau raid.
Ad blocker interference detected!
Wikia is a free-to-use site that makes money from advertising. We have a modified experience for viewers using ad blockers

Wikia is not accessible if you've made further modifications. Remove the custom ad blocker rule(s) and the page will load as expected.