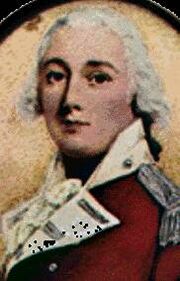 John Pitcairn 
(28 December 1722 Dysart,
Scotland
-17 June 1775 Bunker Hill,
Thirteen Colonies
) was a Scottish military officer in the service of
Great Britain
who fought in the
French and Indian War
and the
Revolutionary War
. He was killed in action in the
Battle of Bunker Hill
.
Biography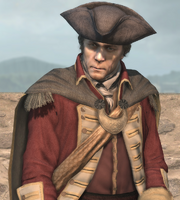 Pitcairn joined the British Army in 1746 and was posted in the Thirteen Colonies under the command of General Edward Braddock, serving at the Southgate Fortress. He was arrested in 1754 after being accused of desertion, as he was approached by Charles Lee and Haytham Kenway, two Templar Knights, but Lee and Kenway ambushed a British military patrol that was marching him to the gallows and he was freed. After serving in the French and Indian War for a few months, he returned to the Templars and helped to assassinate General Silas Thatcher in order to free the Mohawk captives, and afterwards, remained in the British Army, becoming a Major in 1771.
In 1775, when the Revolutionary War began, he led British troops in the Battle of Lexington and the Battle of Barrett's Farm, the first of which was a victory, the latter being a defeat. He fell back to Boston, guarded by 1,000 troops there, but was lured out by some Patriots at Bunker Hill, directing the bombardment of Charlestown and the attack on the hill's defenses, held by Israel Putnam.
Death
After two British frigates were destroyed in battle, the Battle of Bunker Hill turned around, as the Patriots prepared to hold off the British land attacks, hitting many as they charged up the hill. Pitcairn watched from the hillside as his men fought the Patriots, exchanging volleys of bullets. Some Continental soldiers headed around the right flank of his camp, and ambushed him.
Pitcairn was attacked by one of them; he was pulled off of his horse and stabbed in the chest with a hidden dagger, killing him. This saved William Hancock and many others, and his last words were saying that the Continentals should lay down their arms. Then, he died.