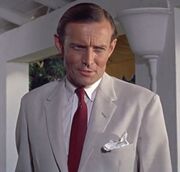 John Strangways
(died 1962) was the
British
MI6
station chief in
Jamaica
during the
Cold War
.
Biography
John Strangways was born in England, and he rose in the ranks of MI6 until he was assigned to Jamaica in the Caribbean. Strangways served as station chief, and he frequented the Queen's Club with fellow British intelligence officers and their American CIA allies. In 1962, Strangways met with CIA agents to discuss the disruption of rocket launches from Cape Canaveral, Florida by radio jammings, and he believed that the disruption was coming from within Jamaica. One day, after leaving a cards table at the Queen's Club, Strangways was shot several times with a silenced pistol by the "Three Blind Mice", three Jamaican assassins, as he entered his car. The assassins later broke into his office, killed his secretary, and stole several of his documents. The gunmen were later revealed to be SPECTRE assassins.
Ad blocker interference detected!
Wikia is a free-to-use site that makes money from advertising. We have a modified experience for viewers using ad blockers

Wikia is not accessible if you've made further modifications. Remove the custom ad blocker rule(s) and the page will load as expected.