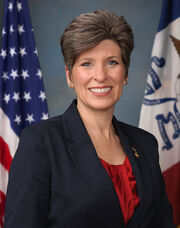 Joni Ernst
(1 July 1970-) was a
US
Senator from
Iowa
(
R
) from 3 January 2015, succeeding
Tom Harkin
. She was the first woman from Iowa to be elected to either house of the
US Congress
.
Biography
Joni Culver was born in Montgomery County, Iowa on 1 July 1970, and she served in the US National Guard from 1993 to 2015, commanding the 1168th Transportation Company in Kuwait from 2003 to 2004 during the Iraq War. In 2004 and 2008, she was elected Montgomery County auditor, and she was elected to the Iowa State Senate in 2011 as a Republican Party member. In 2014, she took the US Senate seat of the retiring Tom Harkin, the first Iowa woman to be elected to either house of the US Congress. Ernst supported eliminating the Department of Education, the Internal Revenue Service, and the Environmental Protection Agency to cut government spending, supported "free carry" laws (except for in public buildings like schools), opposed the federal minimum wage, opposed environmental regulations, endorsed Paul Ryan's privatized Medicaid model in 2011, opposed Obamacare, opposed same-sex marriage, opposed marijuana, and opposed abortion.
Ad blocker interference detected!
Wikia is a free-to-use site that makes money from advertising. We have a modified experience for viewers using ad blockers

Wikia is not accessible if you've made further modifications. Remove the custom ad blocker rule(s) and the page will load as expected.