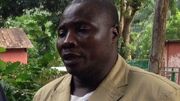 Joseph Zoundeiko
(died 11 February 2017), also called 
Zindeko
, was a Major-General of the
Seleka
rebel coalition during the
Central African Republic Civil War
.
Biography
Joseph Zoundeiko was a member of the Muslim Seleka rebel coalition in the war against President Francois Bozize, and he became the Chief-of-Staff of the Seleka coalition. Zoundeiko served under Michel Djotodia in the Central African Republic Civil War, and he was interviewed by the BBC, where he told them that Seleka gave protection to Christians in Muslim areas, although no Muslims were allowed in Christian areas. On 11 February 2017, Zoundeiko was killed when a United Nations helicopter fired on fighters advancing on the town of Bambari.
Ad blocker interference detected!
Wikia is a free-to-use site that makes money from advertising. We have a modified experience for viewers using ad blockers

Wikia is not accessible if you've made further modifications. Remove the custom ad blocker rule(s) and the page will load as expected.