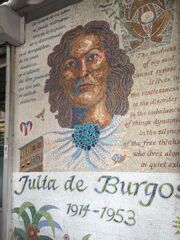 Julia Constanza Burgos Garcia
(17 February 1914-6 July 1953), better known as
Julia de Burgos
, was a
Puerto Rican
nationalist
poet and a women's rights and
Afro
-
Caribbean
civil rights activist.
Biography
Julia Constanza Burgos Garcia was born in Carolina, Puerto Rico on 17 February 1914, the oldest of thirteen children; six of her younger siblings died of starvation. She enrolled in the University of Puerto Rico in 1931 with the goal of becoming a teacher, and she graduated in 1933. Burgos was fired from a children's program on public radio for her nationalist views, and she turned to poetry, making a name for herself as a prominent feminist and civil rights activist. She became a writer for a progressive Hispanic newspaper in the United States after moving to New York City, and she serrved as Secretary-General of the Daughters of Freedom, the women's branch of the Puerto Rican Nationalist Party. Burgos died of pneumonia in New York City on 6 July 1953.
Ad blocker interference detected!
Wikia is a free-to-use site that makes money from advertising. We have a modified experience for viewers using ad blockers

Wikia is not accessible if you've made further modifications. Remove the custom ad blocker rule(s) and the page will load as expected.