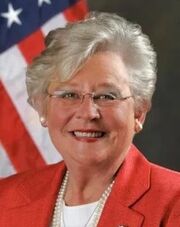 Kay Ellen Ivey
(15 October 1944-) was Governor of
Alabama
(
R
) from 10 April 2017, succeeding
Robert J. Bentley
. Ivey had previously served as Lieutenant-Governor from 17 January 2011 to 10 April 2017 (succeeding
Jim Folsom Jr.
) and as Treasurer from 20 January 2003 to 17 January 2011 (succeeding
Lucy Baxley
and preceding
Young Boozer
).
Biography
Kay Ellen Ivey was born in Camden, Alabama on 15 October 1944, and she worked as a high school teacher in California after graduating from Auburn University. She returned home after a failed marriage and worked for Merchants National Bank, and she became involved with Democratic Party politics during the 1980s. She served as law clerk of the State House from 1980 to 1982, Assistant Director of the Alabama Development Office from 1982 to 1985, and Director of Government Affairs and Communications for the Alabama Commission on Higher Education from 1985 to 1998. In 2003, she was elected as State Treasurer, and she put tax revenues and the state's expenditures online for public view to increase government transparency, and she saved the taxpayer $5,000,000 in administrative costs by updating the office's technology, trimming the payroll, and adopting private-sector management techniques in the workplace. However, the Prepaid Available College Tuition program suffered complete financial collapse under her, and the state legislature had to bail the program out in order to help tens of thousands of Alabama families with educating their children at state colleges.
In 2010, Ivey ran for Lieutenant-Governor due to her tenure as Treasurer suffering from term limits, and she won the office during a Republican sweep of statewide offices. In 2014, she was re-elected as Lieutenant-Governor, the first time that an Alabama Republican Party member would be re-elected as a Lieutenant-Governor. In April 2017, she became Governor when Governor Robert J. Bentley was forced to resign by an ethics scandal, becoming the state's second female governor, after Lurleen Wallace.
Ad blocker interference detected!
Wikia is a free-to-use site that makes money from advertising. We have a modified experience for viewers using ad blockers

Wikia is not accessible if you've made further modifications. Remove the custom ad blocker rule(s) and the page will load as expected.