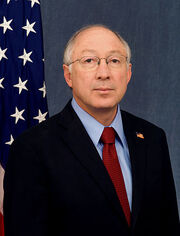 Kenneth Lee "Ken" Salazar
 (2 March 1955-) was
US
Secretary of the Interior from 20 January 2009 to 12 April 2013, succeeding
Dirk Kempthorne
and preceding
Sally Jewell
; he previously served as Senator from
Colorado
(
D
) from 3 January 2005 to 20 January 2009, succeeding
Ben Campbell
and preceding
Michael Bennet
.
Biography
Kenneth Lee Salazar was born in Alamosa, Colorado on 2 March 1955, the brother of congressman John Salazar. Salazar's Spanish ancestors had lived in the region since the 1500s, when Colorado was a part of New Spain; his family was in the region three hundred years before the United States conquered it. Nevertheless, he was subjected to anti-Hispanic discrimination throughout his life. He attended Colorado College and the University of Michigan Law School, earning political science degrees. In 1986, he became the chief legal counsel to Governor Roy Romer, who later made him repsonsible for heading the Department of Natural Resources. In 1994, he returned to practicing law, and he served as state Attorney-General from 1999 to 2005, when he was elected Senator from Colorado (D). In 2009, he was appointed Secretary of the Interior by the Barack Obama administration, one of two Hispanics in Obama's administration. Many were wary of him due to his ties to coal and mining industries, but he was popular due to his environmental conservation efforts. In 2013, he left office to become a partner at a law firm, and he would have headed Hillary Clinton's transition team in 2016, had she won the presidency.
Ad blocker interference detected!
Wikia is a free-to-use site that makes money from advertising. We have a modified experience for viewers using ad blockers

Wikia is not accessible if you've made further modifications. Remove the custom ad blocker rule(s) and the page will load as expected.