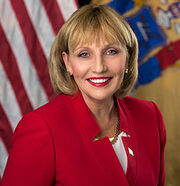 Kimberley Ann "Kim" Guadagno
(13 April 1959-) was Lieutenant-Governor of
New Jersey
from 19 January 2010, the first holder of the position. She served as the running mate of
Chris Christie
, and she was the
Republican
nominee for Governor of New Jersey in 2017.
Biography
Kimberley Ann McFadden was born in Waterloo, Iowa on 13 April 1959, and she earned a bachelor of arts degree from Ursinus College in 1980 before earning a law degree from the Washington College of Law in 1983. She served as an Assistant US Attorney for the Eastern District of New York and the District of New Jersey, and she also served as Assistant NJ Attorney-General, having moved to the state in 1991. During the 1990s, she was responsible for investigating corruption in New Jersey, and she became Sheriff of Monmouth County in 2007. In 2009, Republican Party gubernatorial nominee Chris Christie named her as his running mate in the first New Jersey election to elect a Lieutenant-Governor, despite few people recognizing her name. On 19 January 2010, she took office as Lieutenant-Governor, and she also served as Secretary of State. In 2017, she ran for Governor of New Jersey, winning 46.8% of the statewide primary vote. Guadagno supported a pro-life stance on abortion despite personally opposing it, and she was embroiled in numerous controversies, including the fradulent awarding of $300,000 for a public art project, pension fraud, and attempting to coerce the Mayor of Hoboken into approving a private development project in exchange for hurricane relief funds.
Ad blocker interference detected!
Wikia is a free-to-use site that makes money from advertising. We have a modified experience for viewers using ad blockers

Wikia is not accessible if you've made further modifications. Remove the custom ad blocker rule(s) and the page will load as expected.