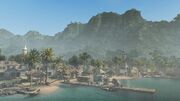 Kingston
is the capital and largest city of
Jamaica
, located on the southeastern coast of the island. The city was founded in July 1692 across the harbor from
Port Royal
, which had been destroyed by an earthquake. Kingston was built on a grid system to facilitate commerce, and it grew to become one of the largest cities in the country; in 1872, after over a hundred years of lobbying, the government finally moved the capital of Jamaica from Spanish Town to Kingston. During the 1970s, a decline in economic conditions led to parts of the city becoming crime-ridden and poor, and the
conservative
Jamaica Labor Party
ousted the
socialist
People's National Party
from power around the same time in hopes of creating a market-oriented economy. In 2011, Kingston had a metropolitan area population of 662,426 people.
Ad blocker interference detected!
Wikia is a free-to-use site that makes money from advertising. We have a modified experience for viewers using ad blockers

Wikia is not accessible if you've made further modifications. Remove the custom ad blocker rule(s) and the page will load as expected.