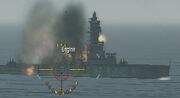 The 
Kirishima
was an
Imperial Japanese Navy
battlecruiser that was launched on 1 December 1913 and commissioned two years later. The ship was built at the Mitsubishi Shipyards in Nagasaki, and she was commissioned on the same day as her sister ship, the 
Haruna
. In 1927, 
Kirishima
was rebuilt as a battleship, and she was used as a supply ship and troop transport during the
Second Sino-Japanese War
and as a support ship during the "Oriental blitzkrieg" period of
World War II
from December 1941 to June 1942. On 15 November 1942, in one of the only two battleship duels of the
Pacific War
, 
Kirishima
was sunk by
USS Washington (BB-56)
after heavily damaging
USS South Dakota (BB-57)
, capsizing that morning.
Gallery