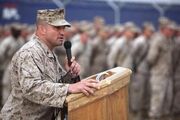 Lawrence "Larry" Kaifesh
(1967-) was a
US Marine Corps
colonel and
Republican Party
politician who unsuccessfully ran for a seat in the
US House of Representatives
from
Illinois
' 8th congressional district in 2014.
Biography
Lawrence Kaifesh was born in Elgin, Illinois in 1967, and he was a state wrestling champion while attending Dundee-Crown High School. In 1991, Kaifesh joined the US Marine Corps, and he rose to the rank of Lieutenant-Colonel during his 22-year active service career, which ended in October 2013. The next month, Kaifesh declared his candidacy for a US House of Representatives seat from Illinois' 8th congressional district, running as a Republican Party member; his rival was fellow veteran Tammy Duckworth. Kaifesh defeated Manju Goel in the primaries to become the Republican nominee. Kaifesh wanted to repeal Obamacare, implement budget cuts, suppport pro-life policies (while resisting the slowing of abortion legislation by the government), supported a pathway to citizenship for undocumented immigrants, and promised that he would not push the country into default or shut down the government. Ultimately, Duckworth defeated Kaifesh with 56% of the vote.
Ad blocker interference detected!
Wikia is a free-to-use site that makes money from advertising. We have a modified experience for viewers using ad blockers

Wikia is not accessible if you've made further modifications. Remove the custom ad blocker rule(s) and the page will load as expected.