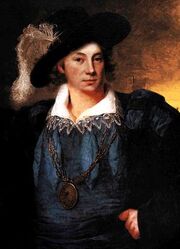 Laurens de Graaf
(1653-24 May 1704) was a
Dutch
pirate
and mercenary who was in the service of the
Kingdom of France
from the colony of
Saint-Domingue
in the
Caribbean Sea
.
Biography
Laurens de Graaf was born in Dordrecht, United Provinces in 1653 to a family of mixed African and European ancestry, and he was enslaved by the Spanish and sent to the Canary Islands. During the early 1670s, he escaped from the plantation and moved to the Caribbean, where he became a pirate. In March 1672, De Graaf took part in the sack of Campeche in New Spain, and he became the captain of a French privateer crew in Saint-Domingue in 1675. During the late 1670s, he captured several Spanish vessels and converted them to piracy, and the Governor of Jamaica, Henry Morgan, sent pirate hunters after De Graaf in 1682.
De Graaf captured the treasure-laden ship Princesa as it carried the payroll for Puerto Rico and Santo Domingo, stealing 120,000 pesos in silver. De Graaf made the Princesa his flagship as the Francesca, and De Graaf led a pirate fleet in a raid on the Spanish port of Veracruz in 1683, during which they were forced to retreat after Nicholas van Hoorn was killed. He proceeded to destroy or capture several Spanish Navy ships off the coast of Cartagena de Indias in Colombia before blockading the port, retreating after Christmas. In 1685, he launched another raid on Campeche from Pinos Isle, but the pirates burned the town and killed prisoners when no ransom was paid. In 1686, after the Spanish raided De Graaf's Saint-Domingue plantation, De Graaf raided, looted, and burned Tihosuco. In 1687, he sunk several Spanish ships off southern Cuba, and he blockaded Jamaica in 1689 before capturing an English sloop off the Cayman Islands. In January 1691, he narrowly escaped death after a larger Spanish fleet destroyed his smaller French fleet off Snato Domingo, and he spent the summer of 1693 leading buccaneers against Jamaica. In 1695, the French attacked Port-de-Paix at Saint-Domingue, where they sacked the town and captured De Graaf's family. De Graaf later helped in setting up the French colony of Biloxi in Mississippi before dying there in 1704.
Ad blocker interference detected!
Wikia is a free-to-use site that makes money from advertising. We have a modified experience for viewers using ad blockers

Wikia is not accessible if you've made further modifications. Remove the custom ad blocker rule(s) and the page will load as expected.