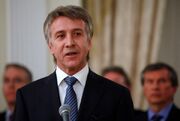 Leonid Mikhelson
(11 August 1955-) was a
Russian
businessman and the CEO of the Novatek gas company. In 2017, he was the wealthiest man in the country, with his personal fortune being estimated at $18.2 billion.
Biography
Leonid Mikhelson was born in Kaspiysk, Russian SFSR, Soviet Union on 11 August 1955 to a Jewish family, and he graduated from the Samara Institute of Civil Engineering in 1977 to become an engineer. He became the foreman of an assembling company in the Tyumen area of Siberia, and he became Chief Engineer of Ryazantruboprovodstroy in 1985, later becoming Chief Engineer of Kuibishevtruboprovodstroy in 1987; the company was one of the first to be privatized after the 1991 fall of the USSR. During the 1990s, he amassed a large amount of wealth as the manager of NOVA and the director of its NOVATEK holding company. Mikhelson also made a fortune from becoming involved in the gas industry, and he became a megayacht owner and a large art collector. By 2017, he was the richest man in Russia and the 46th richest man in the world, with a net worth of $18.2 billion.
Ad blocker interference detected!
Wikia is a free-to-use site that makes money from advertising. We have a modified experience for viewers using ad blockers

Wikia is not accessible if you've made further modifications. Remove the custom ad blocker rule(s) and the page will load as expected.